Sambhaji Govind Chintale, Ms
Associate Professor of Otorhinolaryngology
Education
| | |
| --- | --- |
| Degree | Institution an Location |
| MS | Muhs Nashik University Maharashtra, India |
Biography
Dr. Sambhaji Govind Chintale is currently working as Associate Professor in ENT department at JIIUs Indian Institute of Medical Science & Research. He is a Senior Resident at Kem Hospital, Mumbai from 1st Feb to 31st Jul 2012 and Senior Resident at DR. R N Cooper Hospital, Mumbai from 15th Sep to 15th Jan 2013. He has published many papers in reputed journals like Indian Journal of Basic and Applied Medical Research, Otolaryngology Online journal, and International Journal of Recent Trend in Science and Technology.
Research Interest
Head Neck Surgery (Thyroid Surgery)
Rhinoplasty /Maxilo Facial Surgery
Endoscopic Ear And Nasal Surgery
Endoscopic Sinus Surgery
Microlaryngeal Surgery
Osa Surgery / Oesophagoscopy
Scientific Activities
Professional Activities
EditorialBoardMembership
Journal of oral medicine
Journal of otolaryngology; open access
Journal of clinical and experimental endocrinology
Mathews journal of otolaryngology
Positions and Honors
| | |
| --- | --- |
| 2017 | International ENT Andasthetic Medicne Conference Kaulalampur Malaysia |
| | Speaker- National, State and Regional Conferences |
| | Reviewer And Authors @ International Journals |
Publications
Correlation of HRCT mastoid with clinical presentation and operative findings in ear diseases. Published in international journal of otorhinolaryngology and head and neck surgery 2017 july; 3(3)656-660.
Our experience of 200 cases of thyroid surgery under local anaesthesia versus general anaesthesia.  Published in international journal of otorhinolaryngology and head and neck surgery 2017 July; 3(3); 683-686.
Our experience of 20 cases of mucocele. Published in advance surgical research2017 volume 1 issue 1.
Exceptionally long duration an unusual nasal foreign body: 3 cases with review of literature. Published in international journal of scientific research vol 6/ issue 6/ June -2017.
Rosai-Dorfman diseases: a rare condition in differential diagnosis of cervical neck swellings. Published in Indian journal of applied research volume 7/issue6/june-2017.
A rare case of neurofibroma of the nasal tip and dorsum of nose. Published in otolaryngology online journal volume 6issue 2:110 2016.
Chondroma of nasal septum. A case report. Published in Indian journalof basic and applied medical research; September 2013: issue-8, vol.-2p. 958-960.
Embryonal rhabdomyosarcoma. Published   in   Indian journalof basic and applied medical research; March2014: vol-3 issue 12, p524-527.
Congenital oral synechiae: a case report and review. Published in international journal of recent trends in science and technology volume 10, issue 2014, 1: 184-186.
Tongue histoplasmosis; a rare entity in oral pathology. Published in journal of otolaryngology current trends [JOCT104] volume 2017 issue 1.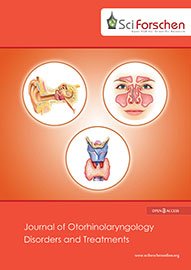 ---