Jaggi Rao
Clinical Professor
Division of Dermatology and Cutaneous Sciences
University of Alberta
Canada
Education
2003 – 2004
American Academy of Cosmetic Surgery (AACS) Dermatology Fellowship Training Program Dermatology/Cosmetic Laser Associates of La Jolla, Inc., La Jolla, San Diego, California, USA
2003
Diplomat of the American Board of Dermatology
Board-certified Dermatologist (USA)
2003
Fellow of the Royal College of Physicians and Surgeons of Canada (FRCPC)
Board-certified Dermatologist (Canada)
1998 – 2003
Residency Training Program in Dermatology
University of Alberta, Edmonton, Alberta, Canada
1999
Licentiate of the Medical Council of Canada (LMCC)
Successfully completed both Medical Council of Canada (MCC) examinations (Parts I and II)
1998 – 2000
Medical Internship Training, Internal Medicine and subspecialties, Pediatrics & Surgery University of Alberta, Edmonton, Alberta, Canada
1998
Doctor of Medicine (MD)
1995 – 1998
MD Training Program (Medical School)
McMaster University, Hamilton, Ontario, Canada
1995
Bachelor of Science (BSc), graduated with High Distinction
Biography
Dr. Jaggi Rao is a double board certified dermatologist (Canada and USA) and a certified cosmetic surgeon. In 1995, he received a Bachelor of Science (BSc) degree with high distinction from the University of Toronto, followed by his Doctorate of Medicine (MD) from McMaster University in 1998. He then completed his 5-year specialty training in dermatology at the University of Alberta. This was followed by the completion of an accredited fellowship with the American Academy of Cosmetic Surgery in Southern California. Dr. Rao is a full Clinical Professor of Medicine and served as the Program Director for the Dermatology Residency Training Program at the University of Alberta from 2009 to 2014.
Dr. Rao has won several accolades for writing, presentations, research and teaching, including the Canadian Dermatology Association's Teacher of the Year Award. In 2011, he was the recipient of Avenue Magazine's Top 40 under 40 Award. He has authored over 50 scientific papers and textbook chapters, and has been an invited speaker for over 500 lectures worldwide to physicians, other professionals, industry and the general public. Dr. Rao is a popular instructor for a number of dermatology-related courses and educational projects. He continues to lend his expertise as a consultant to various organizations including the government (such as the Canadian Standards Association), medical device and pharmaceutical industry, healthcare provision businesses, and professional sports teams.
Clinically, Dr. Rao has been a practicing dermatologist for over 10 years, and is the founder of the Rao Dermatology Centre, a popular medical & cosmetic dermasurgery facility in the heart of Edmonton, Alberta. He has developed several innovative treatment protocols and techniques that have been adopted by other healthcare professionals. Dr. Rao is the creator and visionary behind ConsultDERM™, Canada's largest teledermatology service, which uses modern technologies to allow healthcare providers gain timely access, regardless of distance or location, to dermatology assistance for patients with skin-related problems. Dr. Rao continues to volunteer with Doctors Without Borders (MSF) and the Canadian Physicians for Aid & Relief (CPAR).
Research Interest
Laser Medicine
Cosmetic Dermatology
Phlebology
Acne
Telemedicine
Professional Activities:
2014
Best presentation, Royal Alexandra Hospital Medical Annual "Survivor" Rounds, Edmonton, Alberta
2014
Royal Glenora Club 2014 Aquatic Committee Award for excellence in swimming
2012
Academic promotion to full Clinical Professor of Medicine, Division of Dermatology and Cutaneous Sciences, University of Alberta, Edmonton, Alberta
2011
Avenue Magazine's Top 40 under 40 Award, given to 40 individuals under 40 years old who are excelling in their careers and have raised the profile of their city.
2011
Canadian Dermatology Association, Resident and Fellows Society Teacher of the Year Award
2010
Recipient of the A David and Beatrice Reidford Scholarship for supervision of a University of Alberta medical student for clinical research
2009
Chair and Moderator, 2009 Cutera Annual Clinical Forum, San Francisco, California, USA
Selected to be the Chair for this large annual event, attended by more than 200 physicians, for advanced dermatological laser education and training
2008
Certificate of Teaching Excellence, Family Medicine Residency Program, University of Alberta Chosen after nomination by Family Medicine residents as an "outstanding teacher who represents excellence in preceptoring, role modeling and positive interaction with learners"
2006
Academic promotion to Associate Clinical Professor of Medicine, Division of Dermatology and Cutaneous Sciences, University of Alberta, Edmonton, Alberta
2004
Employee of the Quarter, Dermatology/Cosmetic Laser Associates of La Jolla, La Jolla, California
2003
Best poster presentation, University of Alberta Medicine Research Day, Edmonton, Alberta, Canada
2002
Best oral presentation, 54th   annual Pacific Dermatology Association meeting, La Jolla, California
2002
First recipient of American Society of Dermatologic Surgery annual Preceptorship Award
2001
Hardin Prize (University of Alberta Best Resident in Dermatology), Edmonton, Alberta
2000
First recipient of the annual George W. Goldsand Award, presented to the University of Alberta resident who best demonstrates clinical acumen, teaching and compassion.
1999
First place, nation-wide annual Dermatology Times Writing Contest open to all Canadian Dermatology residents on values obtained upon treating patients with psoriasis.
1998
Best oral presentation, 73rd annual Canadian Dermatology Association meeting, Toronto, Ontario
1998
First place, nation-wide first annual Essay Contest of Canadian Cancer Society, Toronto, Ontario
1994
Master of Ceremonies, Federation of Chinese Canadian Professionals' 10th   anniversary gala, Toronto, Ontario.
1992
Governor General's Bronze Medallion for first place standing at high school graduation.
1992
Metropolitan Toronto Reach for the Top champion.  Captain of winning high school trivia team that represented the entire City of Toronto in provincial finals at University of Western Ontario.
Publications
Acne. eMedicine from WebMD 2014. Available at: http://emedicine.medscape.com/article/1069804-overview
Wat H, Wu DC, Rao J, Goldman MP. The application of intense pulsed light in the treatment of dermatologic disease: a systematic review. Dermatologic Surgery (in press)
C Buffet, J Rao. Depilatories. The Skin Therapy Letter 2013
Epidermolysis Bullosa Acquisita. eMedicine from WebMD 2013. Available at: http://emedicine.medscape.com/article/1063083-overview
Zuo KJ, Guo D, Rao J. Mobile teledermatology: a promising future in clinical practice. J Cutan Med Surg. 2013;17(0):1-5.
GW Jung, JE Tse, I Guiha, J Rao A prospective, randomized, open-label trial comparing the safety, efficacy, and tolerability of an acne treatment regimen with and without a probiotic supplement and minocycline in subjects with mild to moderate acne. J Cutan Med Surg. 2013 Mar-Apr;17(2):114-22.
K Zuo, J Levy, J Rao Skin, Hair & Nails. Edmonton Manual of Common Clinical Scenarios – Essential Clinical Skills 2012
J Asgarpour, R Wong, J Rao Dermatology Photo Diagnosis. Canadian Journal of Diagnosis 2012; 29(11).
A Venkatesh, L Burback, V Prajapati, J Rao Generalized Lichen Spinulosus in a 4-Year-Old Boy Without Systemic Disease. Archives of Dermatology 2012; 148(7):865-6.
T Kwok, J Rao A Practical Approach to Classification and Treatment of Scars. The Skin Therapy Letter 2012
T Kwok, J Rao A Practical Approach to Classification and Treatment of Scars. The Skin Therapy Letter (Family Practice Edition) 2011
Dermatology Internet Sites. eMedicine from WebMD 2010. Available at: http://emedicine.medscape.com/article/1130419-overview
DA Ludwick, C Lortie, J Doucette, J Rao Evaluation of a telehealth clinic as a means to facilitate dermatological consultation: A pilot project to assess the efficiency and experience of teledermatology used in a Primary Care Network. Journal of Cutaneous Medicine & Surgery 2010; January: 7-13.
DC Wu, A Metelitsa, J Rao Chronic leg ulcers. The Canadian Journal of CME 2009; June:45-48.
I Day, J Rao External manifestations of internal disease. Canadian Journal of Diagnosis 2009; January; 26:61-62.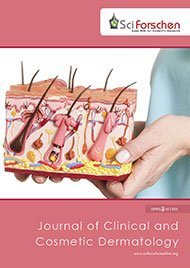 ---