Anna Di Nardo, MD, PhD
Associate Professor of Dermatology
University of California
San Diego, CA, USA
Phone: 858-822-6712
E-mail: adinardo@ucsd.edu
Education
| | | |
| --- | --- | --- |
| 1980-1986 | Medical Doctor Degree With Honors | University of Pavia School of Medicine, Pavia, Italy |
| 1989-1993 | PhD in Skin Immunology and Clinical Allergology | University of Modena - School of Medicine-Modena |
Biography
Dr. Anna Di Nardo graduated with honors in 1986 from the University of Pavia School of Medicine (Italy). She trained as a dermatologist and was Board certified in Dermatology at the University of Modena Medical school (Italy) in 1989. In 1994, she obtained her Ph.D. diploma in Immunology and Clinical Allergology from the Ministry of University and Scientific Research in Italy (mentor: Dr. Giannetti). She practiced Dermatology in Italy for 10 years at the University of Modena. Since 2008 she has been ECFMG certified and has held an unrestricted California medical license. She practices Dermatology at UCSD
Research Interest
Dr. Di Nardo's career has been focused on understanding the skin's innate immune system and translating this knowledge into clinical applications. Her laboratory focus has been to establish the role of mast cells in the skin's innate immune system. The lab interests range from the interaction of mast cells with group A Streptococcus to Vaccinia virus and mast cells interactions. More broadly the lab focuses on the influence of pathogens and commensals on mast cell phenotypes with the long-term goal of demonstrating that mast cell and bacteria interactions are the key to control skin inflammation. The control of skin inflammation is also part of the lab interest in Rosacea. Because the control of inflammation is mediated by the mast cell release of interleukins, the lab is also studying how the TLRs – bacteria interaction can modify mast cell production of interleukins and the possible intracellular second mediators.
Scientific Activities
Teaching Activities
Lead educator and organizer of the Dermatology course for second year medical students.
Focused resident training on pigmented lesions and Dermoscope use.
Professional Associations
1989
Member, Italian Society of Dermatology and Venereology
1992
Member, Society of Bioengineering and the Skin
(member of the board)
1990
Member, International Society for Skin Imaging
1995-2000
Member, European Society of Dermatological Research
2006
Member, Society of Investigative Dermatology
2005
Member, American Academy of Dermatology
2009
NIAMS peer review Committee
2010
Member, American Medical Association
Honors & Awards
October 1980-1986
Member of the Saint Catherine College in Pavia (highest 10 percentile on Medical School test scores to retain a place at the college)
1989-1993
Medical Scientist Training Program Award,
Laboratory of skin physiopathology, University of Modena
September 1993-96
Member of the Board of International Society for Skin Imaging
February 1995
Member of the scientific editorial board of the magazine Skin Research and Technology
November 1995-2000
Member of the board of the "Associazione Italiana di Diagnostica Non Invasiva in Dermatologia" as vice president
May 2005
Recipient of the Albert Kligman traveling award
February 2006-2009
Recipient of the Dermatology Foundation Career Development Award
August 2008
Recipient of the National eczema association Award
December 2009
Recipient of the J&J Focused on giving program for outstanding Research
July 2012-2015
Recipient of the National Rosacea Foundation award
March 2013
Member of the Research committee of the American Academy of Dermatology
2011 – present
Member of the NIH Study section NIAMS R03, NIAMS SBIRR and NAIAD IMM special panel
December 2015
Japanese society of Investigative Dermatology Collegiality Travel award
December 2016
Co-Chair, 41st Japanese Society of Investigative Dermatology Conference, Immunology 2 - Innate Immunity and Microbiology Section
Present Clinical activities
Director of the pigmented lesion clinic with Mole mapping and digital dermoscopy
Patient load: 30 patients per week
Supervise 2 clinics with residents
Attending on call: 15 days every 3 months over 3 hospitals
Hold medical privileges at UCSD medical center and VA San Diego Medical center
Publications
Cathelicidin antimicrobial peptides block dendritic cell TLR4 activation and allergic contact sensitization Anna Di Nardo, Marissa H. Braff, Kristen Taylor, ChangRim Na, Richard Granstein, Jamie E. McInturff, Stephan Krutzik, Robert L. Modlin, and Richard L. Gallo, J Immunol. 2007 Feb 1;178(3):1829-34
Recognition of Hyaluronan Released in Sterile Injury Involves a Unique Receptor Complex Dependent on Toll-like Receptor 4, CD44, and MD-2. R KR Taylor, K Yamasaki, KA Radek, A Di Nardo, H Goodarzi, D Golenbock, B Beutler, and RL Gallo Biol. Chem. 2007; 282: 18265-18275.
Elevated serine protease activity and cathelicidin promotes skin inflammation in rosacea. K Yamasaki, A Di Nardo, A Bardan, M Murakami, T Ohtake, A Coda, RA Dorschner, C Bonnart, P Descargues, Alain Hovnanian, VB Morhenn, and RL. Gallo. Nat Med. 2007 Aug; 13(8):975-80. Epub 2007 Aug 5
Mast cell cathelicidin antimicrobial peptide prevents invasive group A Streptococcus infection of the skin. A Di Nardo, K Yamasaki, RADorschner, Y Lai, RL Gallo. J Immunol. 2008 Jun 180(11):7565-73
Augmentation of cutaneous immune responses by ATP gamma S: purinergic agonists define a novel class of immunologic adjuvants. Granstein RD, Ding W, Huang J, Holzer A, Gallo RL, Di Nardo A, Wagner JA. J Immunol. 2005 Jun 15;174(12):7725-31. Erratum in: J Immunol. 2008 Aug 15;181(4):2933. PubMed PMID: 15944274.
Collagen synthesis is suppressed in dermal fibroblasts by the human antimicrobial peptide LL-37. HJ Park, DH Cho, HJ Kim, JY Lee, BK Cho, SI Bang, SY Song, K Yamasaki, A Di Nardo, RL Gallo. J Invest Dermatol. 2009 Apr; 129(4):843-50. Epub 2008 Oct 16, PMID: 18923445.
Commensal bacteria regulate TLR3-dependent inflammation following skin injury. Y Lai, A Di Nardo, T Nakatsuji, A Leichtle, Y Yang, AL Cogen, ZR Wu, LV Hooper, S von Aulock, KA Radek, CM Huang, AF Ryan, RL Gallo. Nature Medicine. Nat Med. 2009 Dec;15(12):1377-82.
Activation of TLR2 by a small molecule produced by Staphylococcus epidermidis increases antimicrobial defense against bacterial skin infections. Y Lai, AL Cogen, KA Radek, HJ Park, DT McLeod, A Leichtle, AF Ryan, A Di Nardo, RL Gallo. J Invest Dermatol. 2010 Sep;130(9):2211-21. Epub 2010 May 13.
Plasmacytoid dendritic cells sense skin injury and promote wound healing through type I interferons. Gregorio J, Meller S, Conrad C, Di Nardo A, Homey B, Lauerma A, Arai N, Gallo RL, Digiovanni J, Gilliet M. J Exp Med. 2010 Dec 20;207(13):2921-30. doi: 10.1084/jem.20101102. Epub 2010 Nov 29. PubMed PMID: 21115688; PubMed Central PMCID: PMC3005239.
Skin mast cells protect mice against vaccinia virus by triggering mast cell receptor S1PR2 and releasing antimicrobial peptides. Wang Z, Lai Y, Bernard JJ, Macleod DT, Cogen AL, Moss B, Di Nardo A., J Immunol. 2012 Jan 1;188(1):345-57. Epub 2011 Dec 2.
What is your diagnosis? The diagnosis: Kaposi varicelliform eruption (Eczema herpeticum). Breithaupt AD, Di Nardo A, Kempiak SJ. Cutis. 2012 Jul;90(1):13, 24-5. PubMed PMID: 22908727.
Commensal Bacteria Lipoteichoic Acid Increases Skin Mast Cell Antimicrobial Activity against Vaccinia Viruses. Wang Z, Macleod DT, Di Nardo A. J Immunol. 2012 Jul 6. [Epub ahead of print] PMID:22772452
Innate immunity and the role of the antimicrobial peptide cathelicidin in inflammatory skin disease. Roby, K.D. and Di Nardo, A. Drug Discovery Today: Disease Mechanism (2013), http://dx.doi.org/10.1016/j.ddmec.2013.01.001
Mast Cells are Key Mediators of Cathelicidin Initiated Skin Inflammation in Rosacea. Muto Y, Wang Z, Vanderberghe M, Two A, Gallo RL, Di Nardo A. J Invest Dermatol. 2014 May 20. doi:10.1038/jid.2014.222. [Epub ahead of print] PMID:24844861
Melanocytes and melanin represent a first line of innate immunity against Candida albicans. Tapia CV, Falconer M, Tempio F, Falcón F, López M, Fuentes M, Alburquenque C, Amaro J, Bucarey SA, Di Nardo A. Med Mycol. 2014 Jul;52(5):445-54. doi: 10.1093/mmy/myu026. Epub 2014 Jun 15. PubMed PMID: 24934806.
Vaccinia virus binds to the scavenger receptor MARCO on the surface of keratinocytes. MacLeod DT, Nakatsuji T, Wang Z, Di Nardo A, Gallo RL. J Invest Dermatol. 2015 Jan;135(1):142-50. doi: 10.1038/jid.2014.330. Epub 2014 Aug 4. PMID:25089661
mproved clinical outcome and biomarkers in adults with papulopustular rosacea treated with doxycycline modified-release capsules in a randomized trial. Di Nardo Corresponding author. Holmes AD, Muto Y, Huang EY, Preston N, Winkelman WJ, Gallo RL. J Am Acad Dermatol. 2016 Mar 5. pii: S0190-9622(16)00103-1. doi:10.1016/j.jaad.2016.01.023. [Epub ahead of print] PMID: 26951940.
Skin microbiome promotes mast cell maturation by triggering stem cell factor (SCF) production in keratinocytes. Zhenping Wang, Nicholas Mascarenhas, Lars Eckmann, Yukiko Miyamoto, XiaoJun Sun, Toshiaki Kawakami, Anna Di Nardo, Journal of Allergy and Clinical Immunology. Accepted for publication. Acceptance number JACI- D-16-00583R1.
TRPV4 mediates mast cell activation in cathelicidin-induced rosacea inflammation. Nicholas L Mascarenhas, Zhenping Wang, Yu-Ling Chang and Anna Di_Nardo. JID Accepted for publication JID-2016-0797.R1
Skin microbiome promotes mast cell maturation by triggering stem cell factor (SCF) production in keratinocytes. Wang Z, Mascarenhas N, Eckmann L, Miyamoto Y, Sun X, Kawakami T, Di Nardo A. J Allergy Clin Immunol. 2016 Oct 13. pii: S0091-6749(16)31130-7. doi: 10.1016/j.jaci.2016.09.019.PMID:27746235.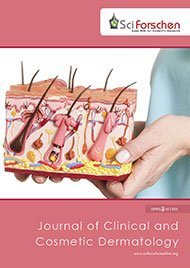 ---